Doesn't your baby feel very happy at the Boss Baby girl birthday party? If your answer is yes, let's examine Boss Baby themed birthday ideas!
Most used colors: Black, pink, golden
Most used symbols: Seat, phone, money, money bag, tie
Who is Boss Baby?: https://en.wikipedia.org/wiki/The_Boss_Baby:_Family_Business
If your baby is a boy, go for the 20+ Best Boss Baby Boy Birthday Ideas of 2021.
1. Big Black-Pink-Golden Balloons
In this theme, the cake stands on the table are in the foreground. We loved the golden towers. Gorgeous just like the Boss Baby girl!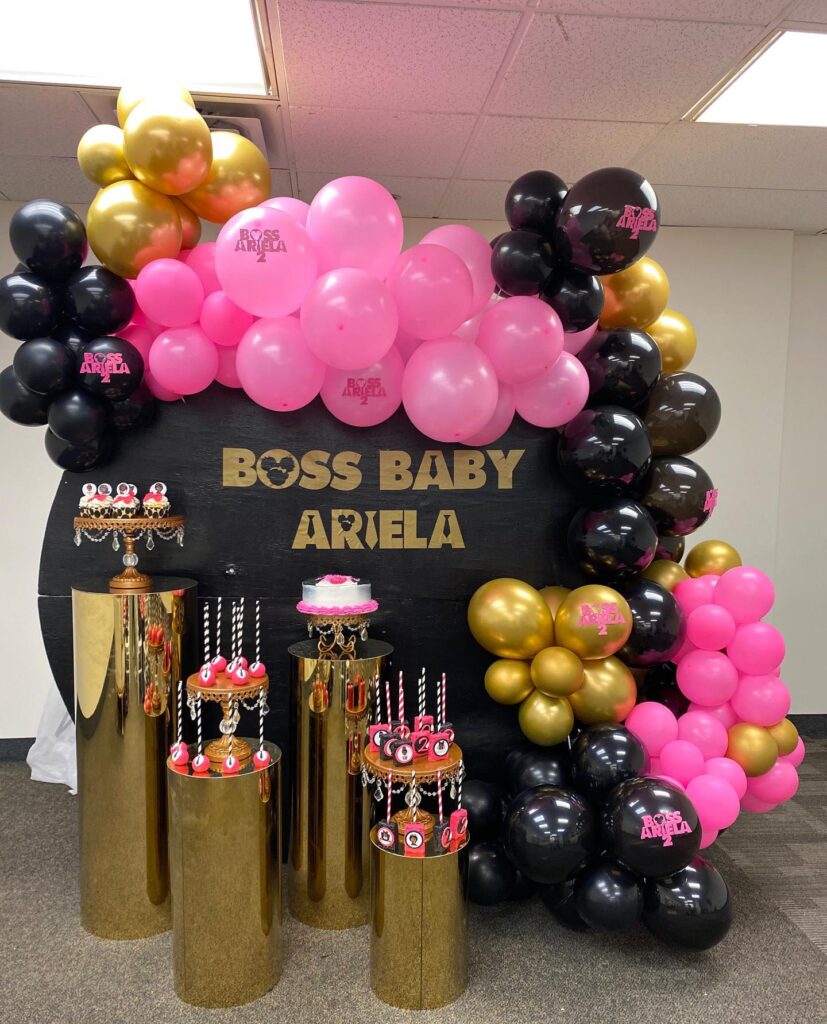 2. Boss Baby Garden Celebration
A perfect design for a birthday celebration in the garden. The weather is sunny and hot. Let's not forget to offer our guests a water bottle labeled the Boss Baby girl.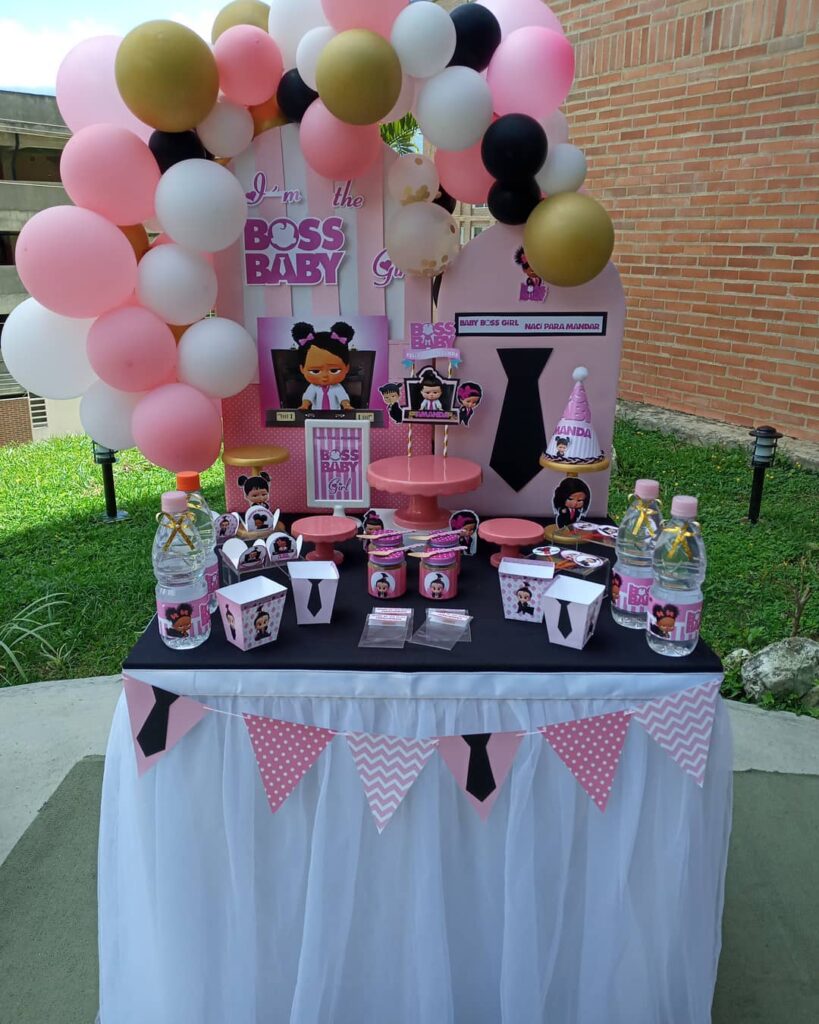 3. Boss Baby Phone
Boss Baby girl is sitting at her desk and very busy. You can also use money and phone symbols at your Boss Baby girl birthday party.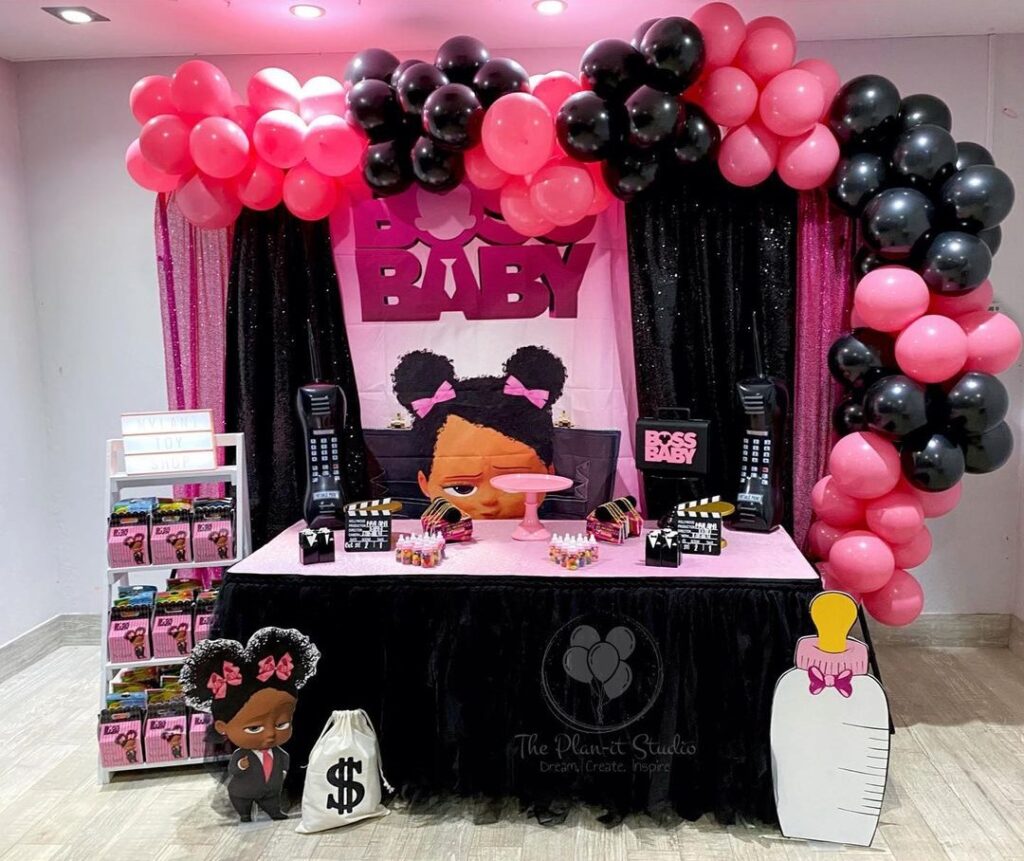 4. Soft Color Boss Baby Girl Birthday Party
You may want to use soft colors on your Boss Baby girl birthday. You can choose light pink tones instead of black, pink and gold.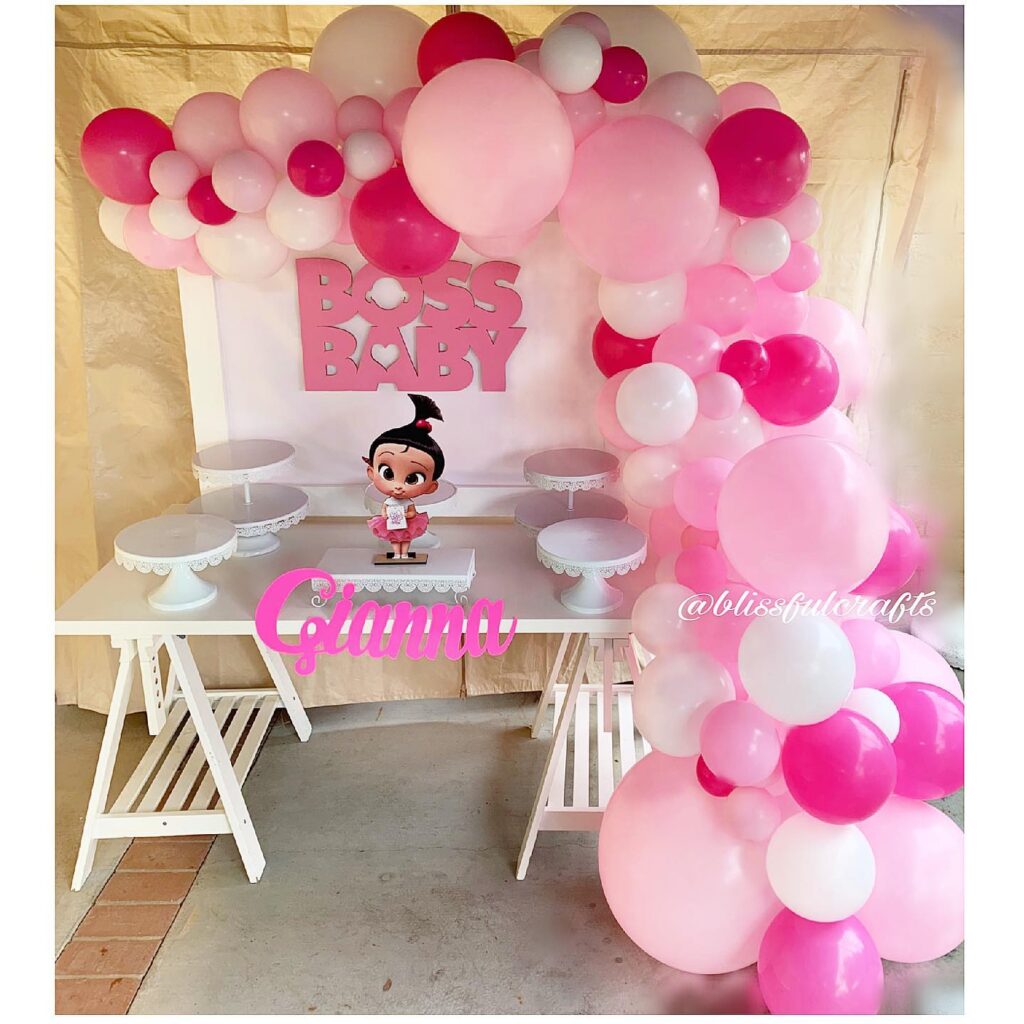 5. Party Light
Using LED lights can be a great Boss Baby girl birthday party idea. Because today's shining star is the Boss Baby girl!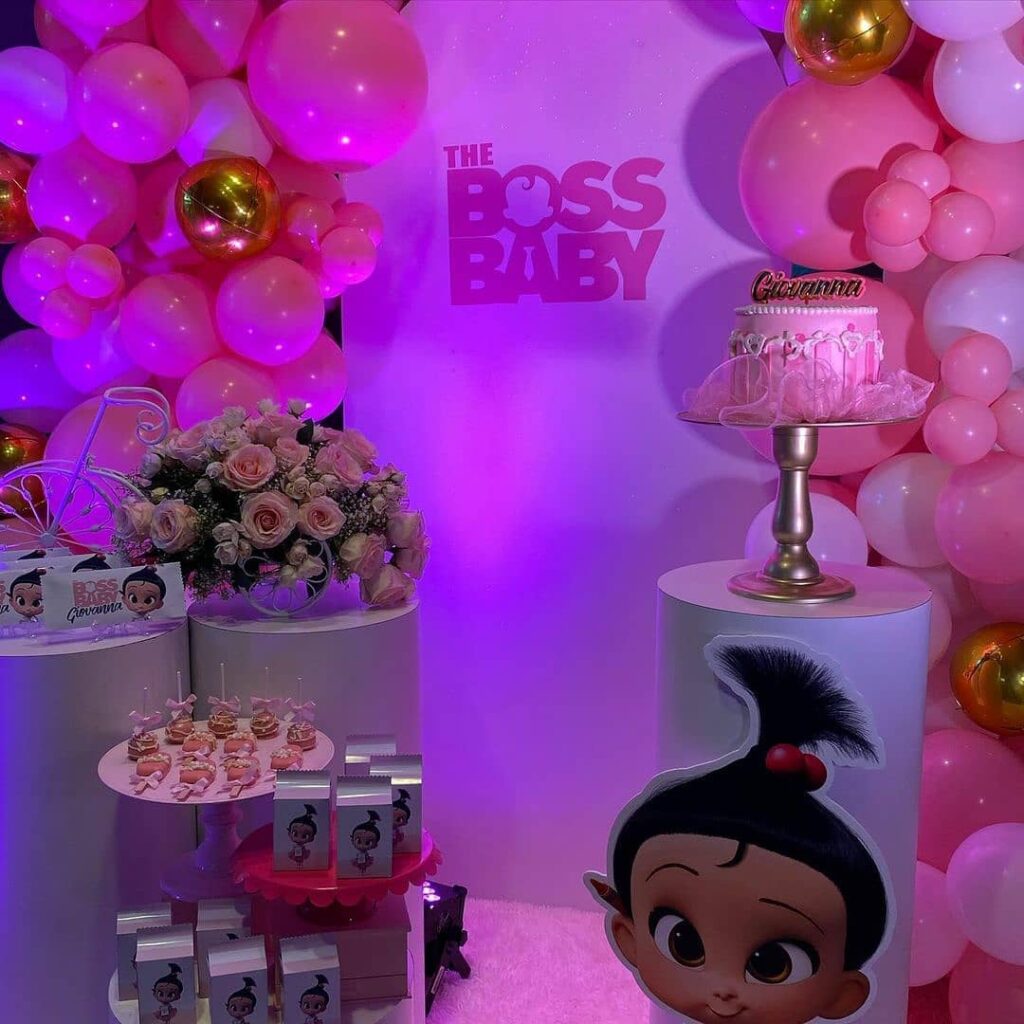 6. Baloon Concept for Boss Baby Girl Birthday Party Ideas
This table is designed in different colors. There are a lot of balloons in the background. The gifts brought by the guests are included in the concept.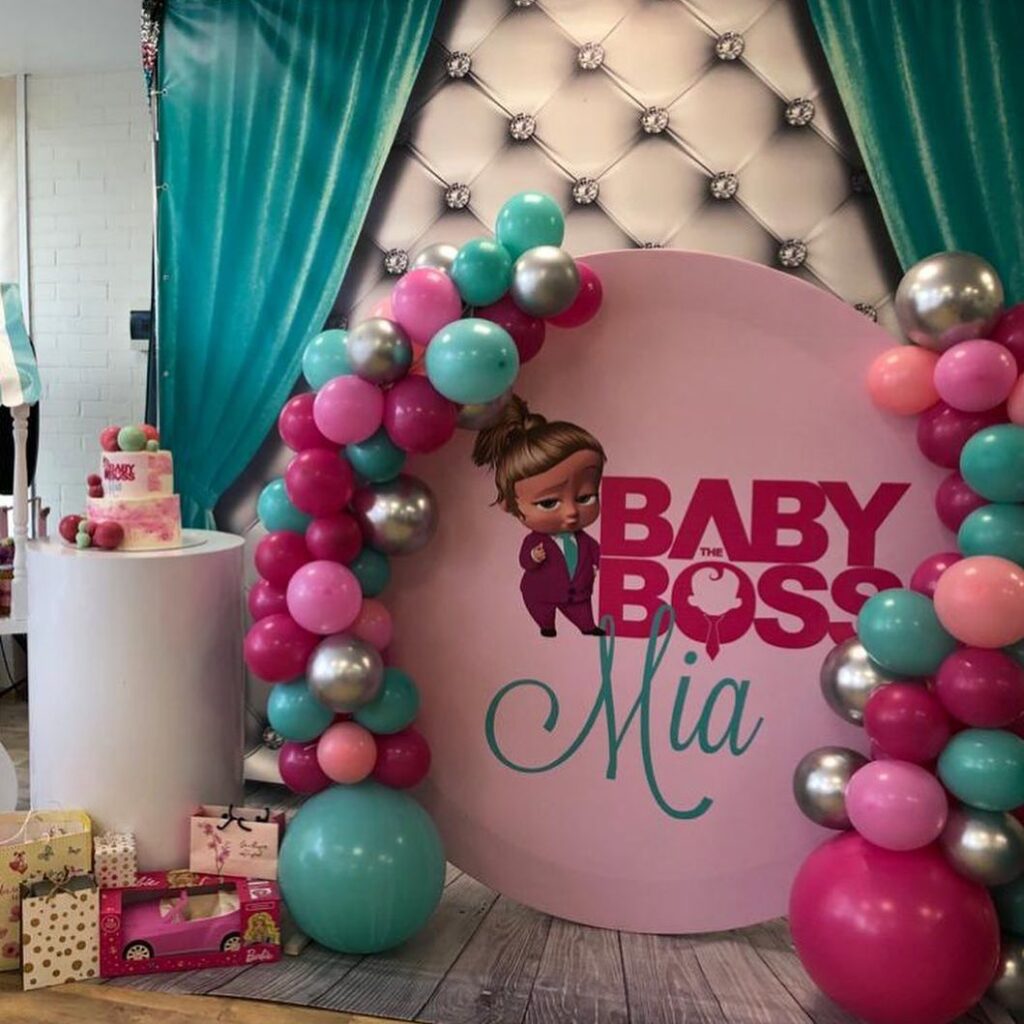 7. Boss Baby Girl Birthday Party Accessories
Garden concepts are very popular at Boss Baby girl birthday parties. You can decorate your baby's age with balloons.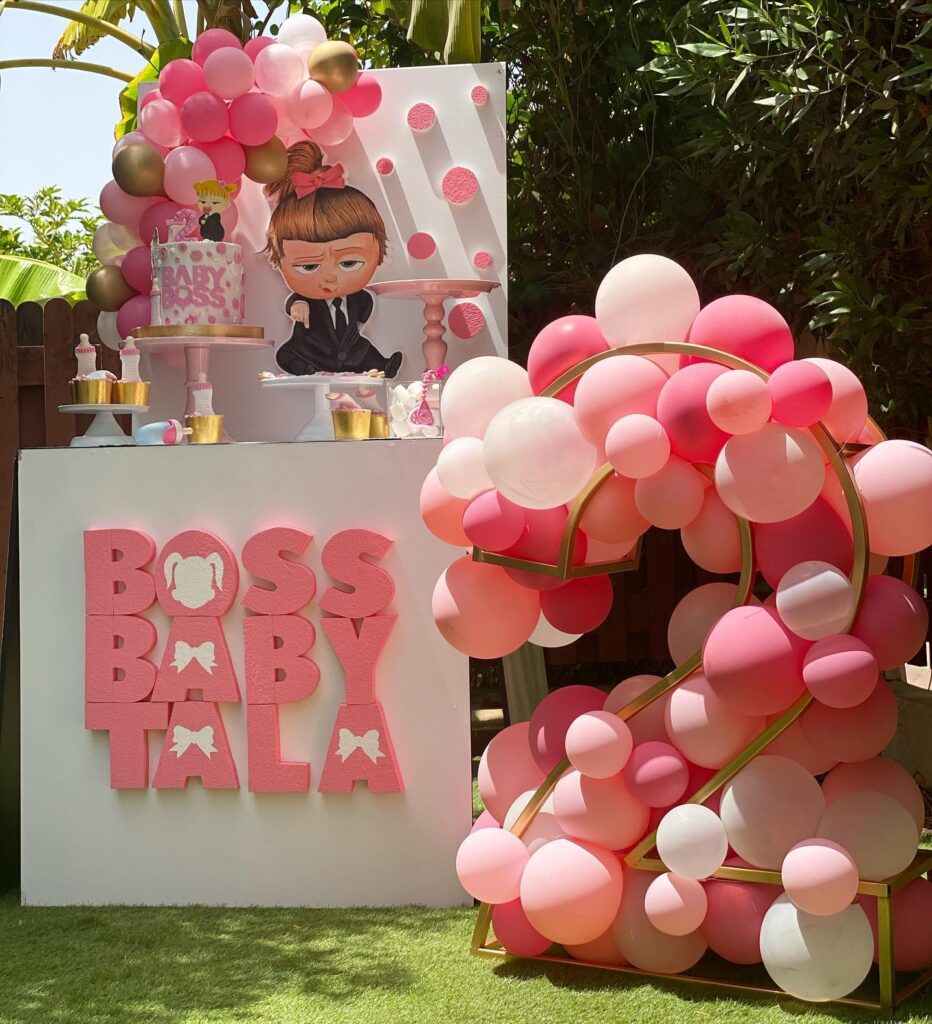 8. Boss Baby Instagram Souvenir Photo Frame
It's a great idea to use an Instagram souvenir photo frame! Your guests will upload unique photos to Instagram.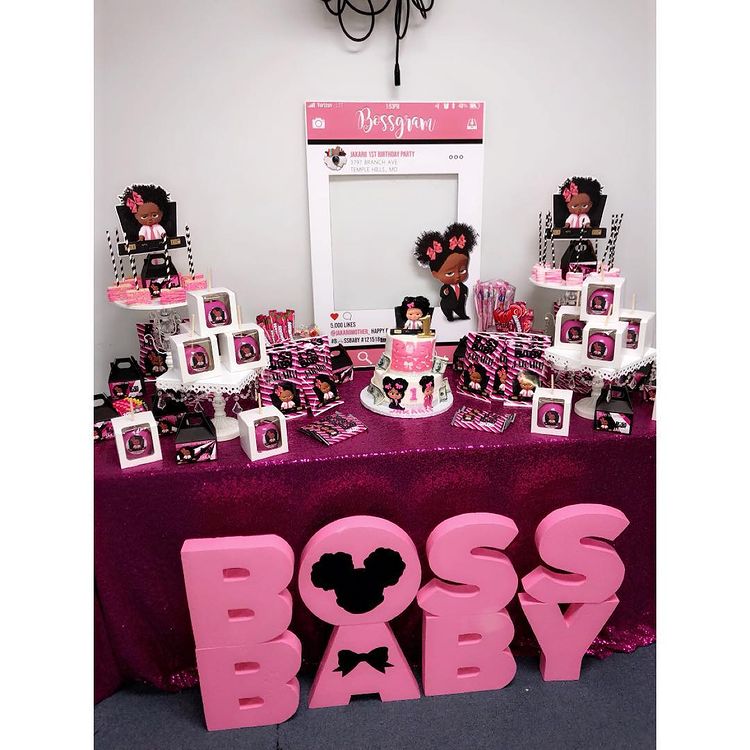 9. Minimal Design Boss Baby Girl Birthday
The bow tie symbol on gift packages will look very stylish. Let's add the Boss Baby girl bag to the top of the cake.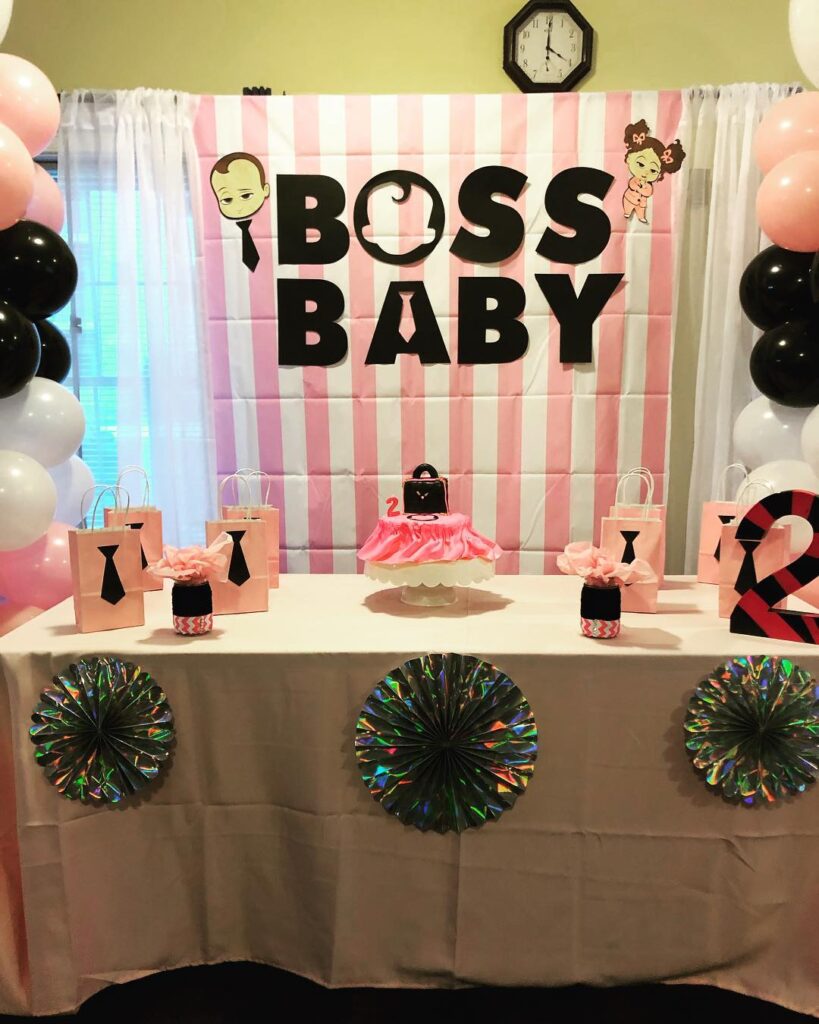 10. Boss Baby In Desk Chair
Black money bag is a must for Boss Baby. Also, the white seat looks glamorous!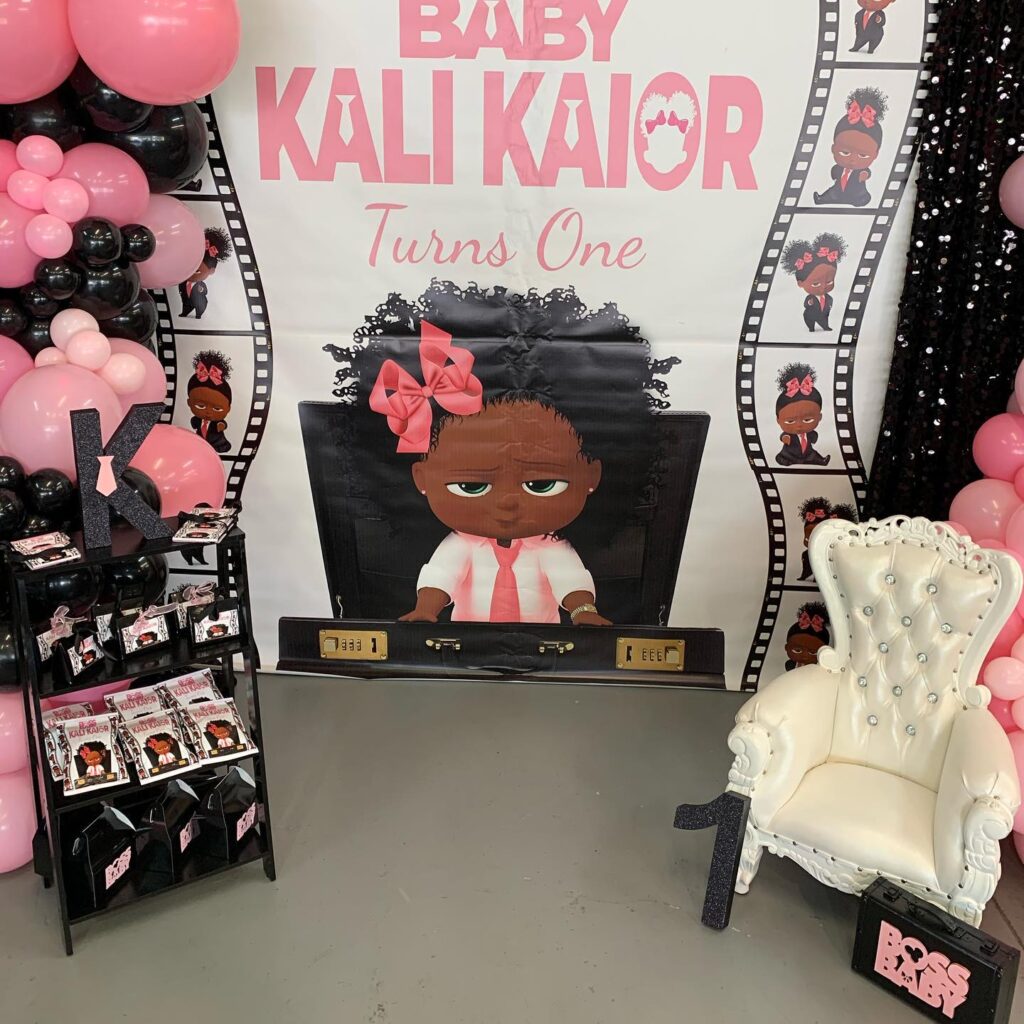 11. Boss Baby Background
Come on, we're taking pictures! Thanks to this decor, photos will turn out great.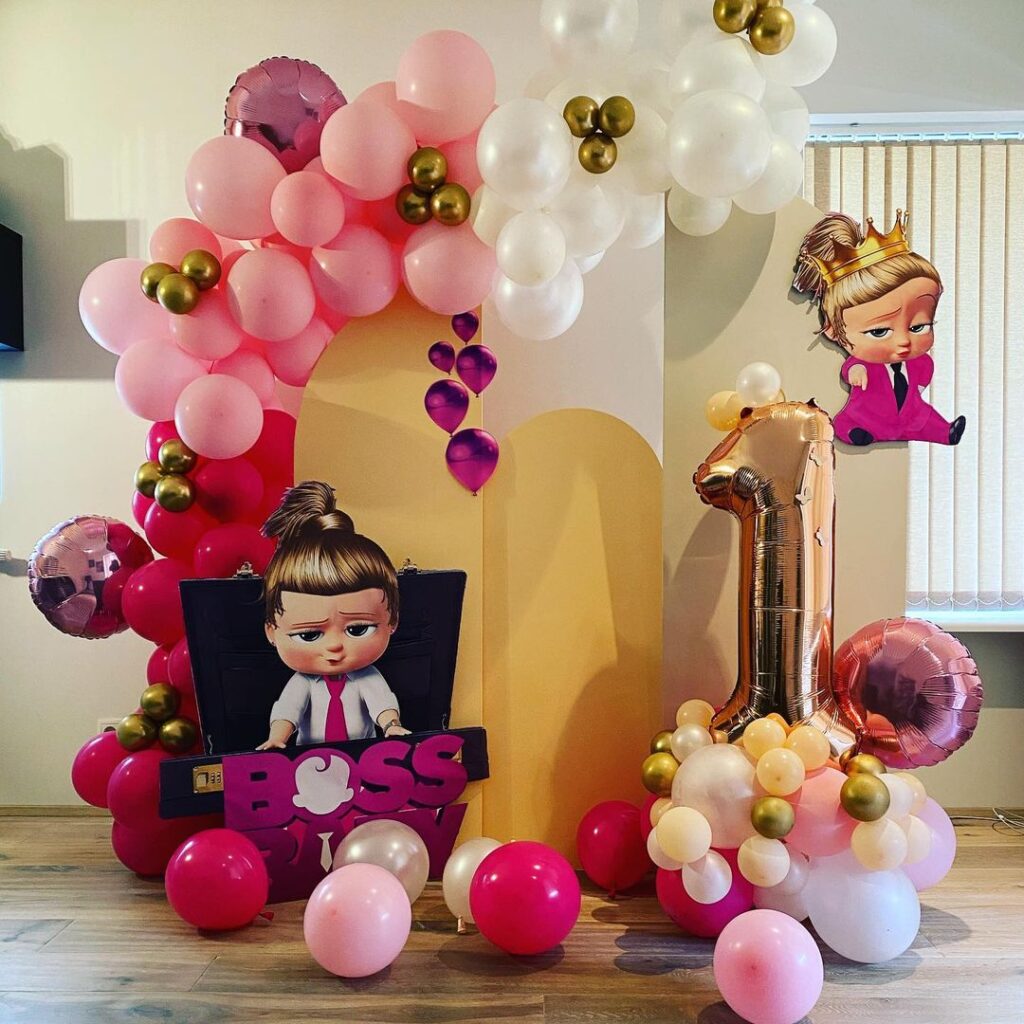 12. Boss Baby Girl Birthday Party Snacks
You can use the pink service cabinet to put your treats and gifts. And you can use the baby bottle tower to put the cupcakes. Also, kids love vanilla meringues.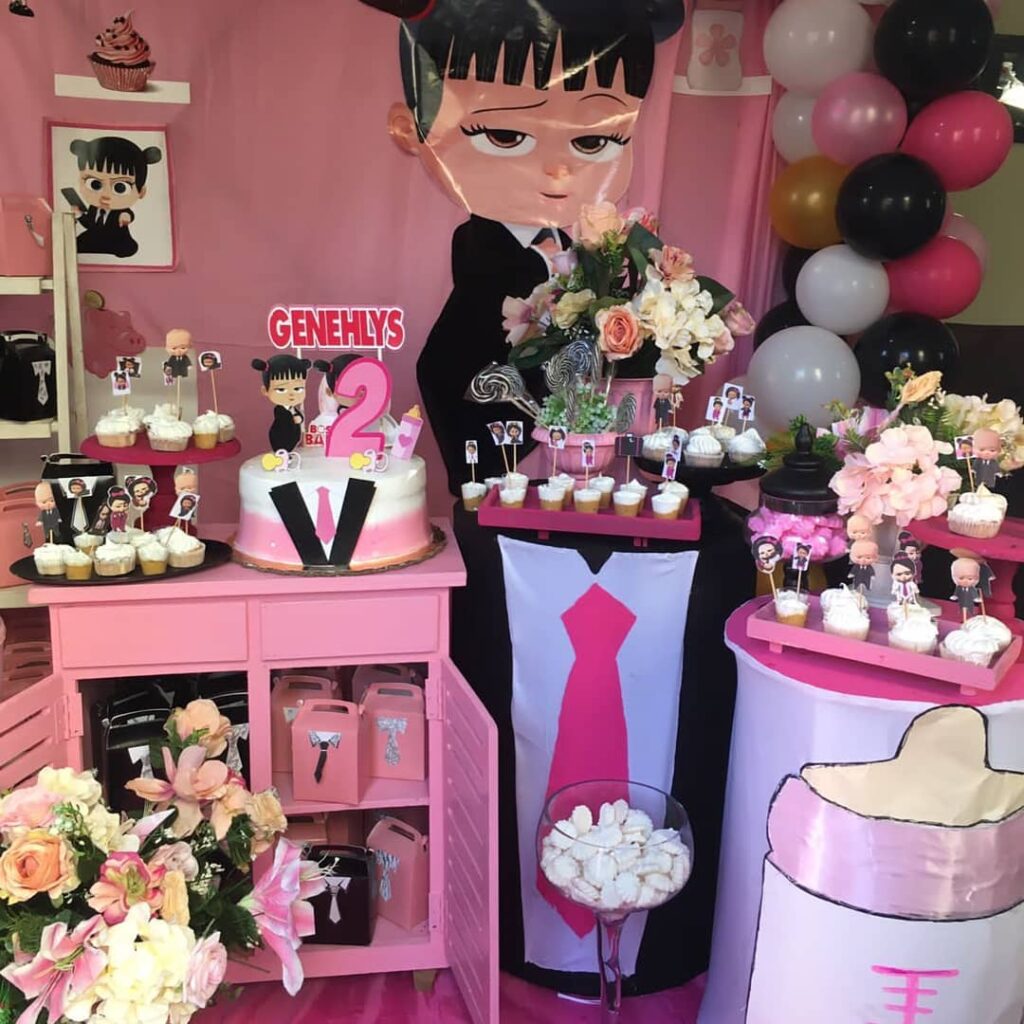 13. Boss Baby Backdrop Banner
Dark colors dominate this design. Also, there is a black seat for boss baby to sit on.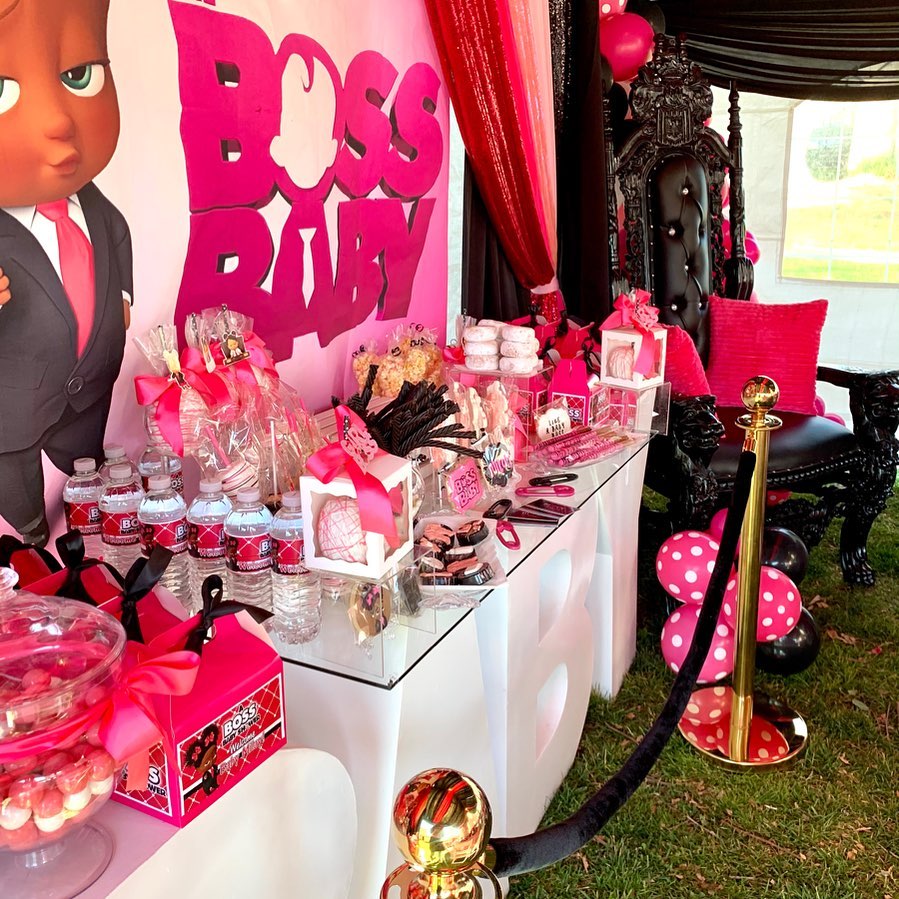 14. Film Strip
A model using the chesterfield pattern on the table. It's a good idea to use a film strip of Boss Baby scenes for the decor on the wall!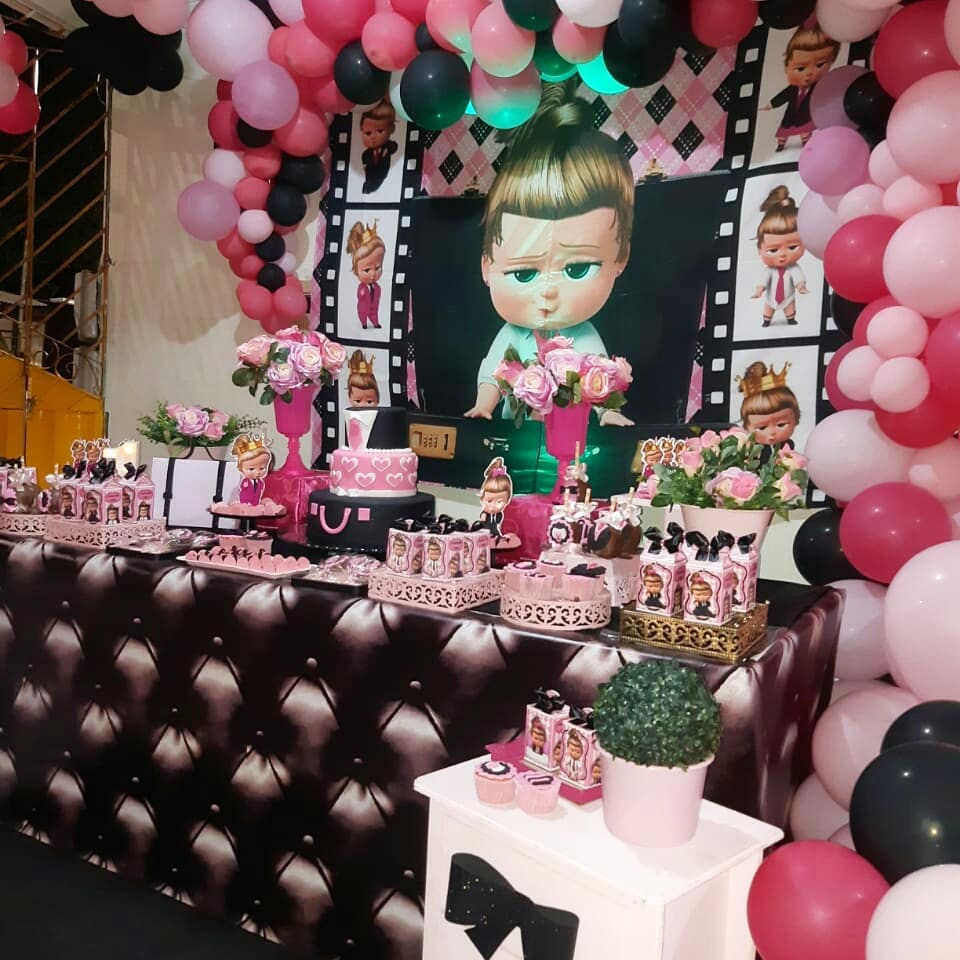 15. Boss Baby Bar Area
You can choose picture cardboard boxes to give special gifts. White and pink tones look very nice at baby girl birthday parties.
16. Boss Baby 3D Model
Is your baby bored at birthday parties? You can attract the attention of babies by using a huge Boss Baby 3D model.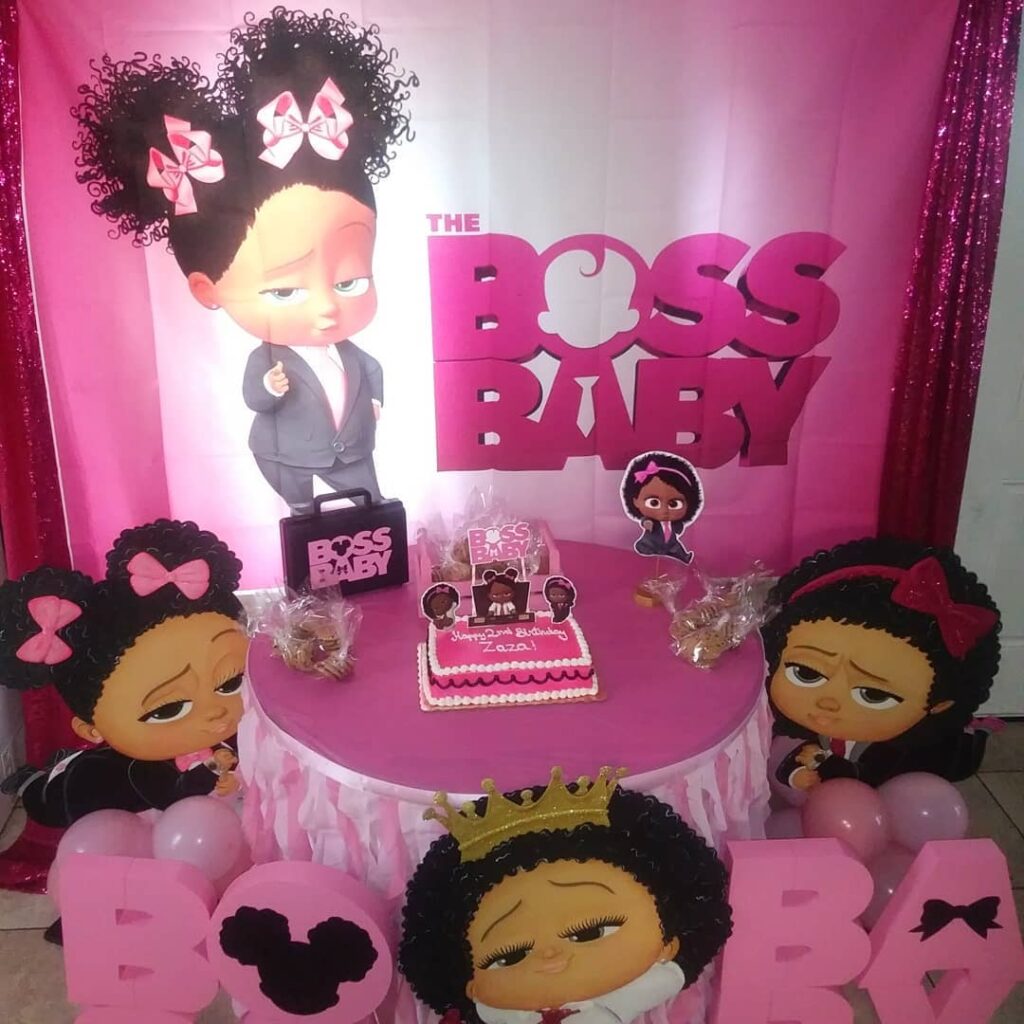 17. Boss Baby Decorations
Wouldn't a decor with baby photos, a huge phone, money, cupcakes and gifts be nice?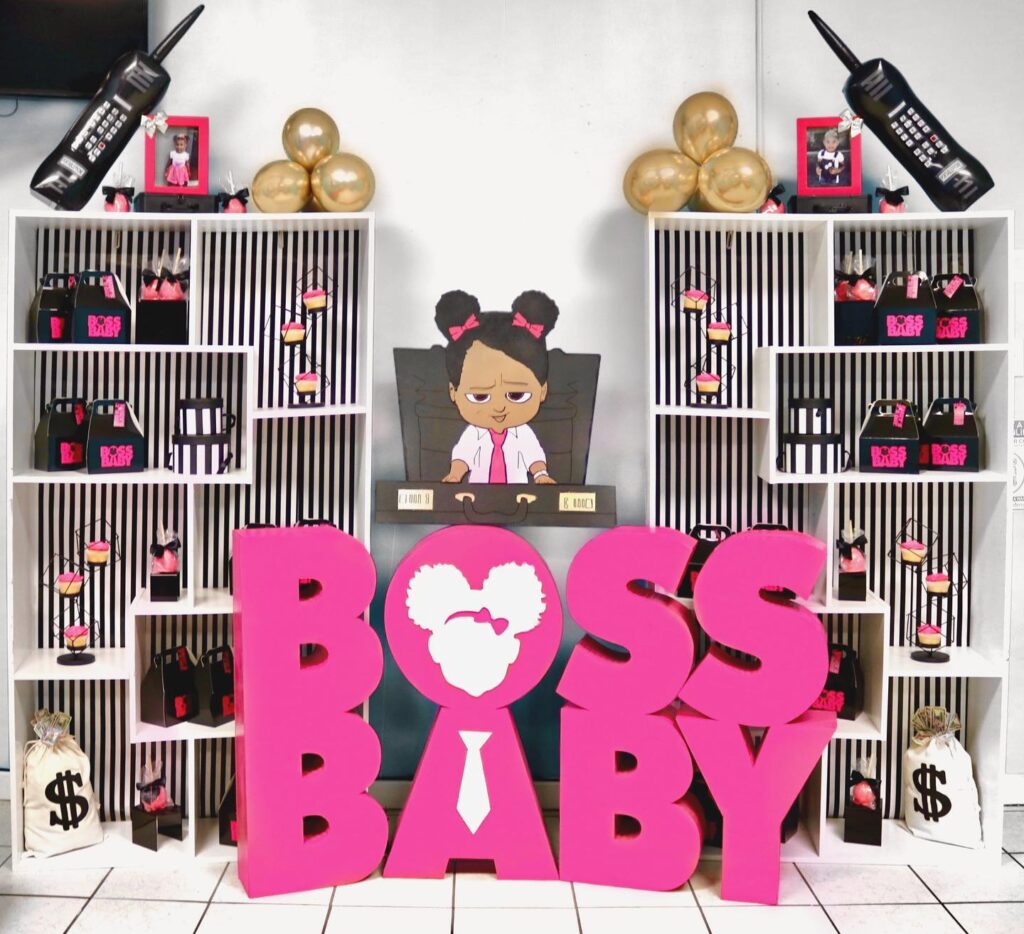 18. Boss Baby Table Setup
A stunning presentation! Pink rose, nice choice for Boss Baby invitation.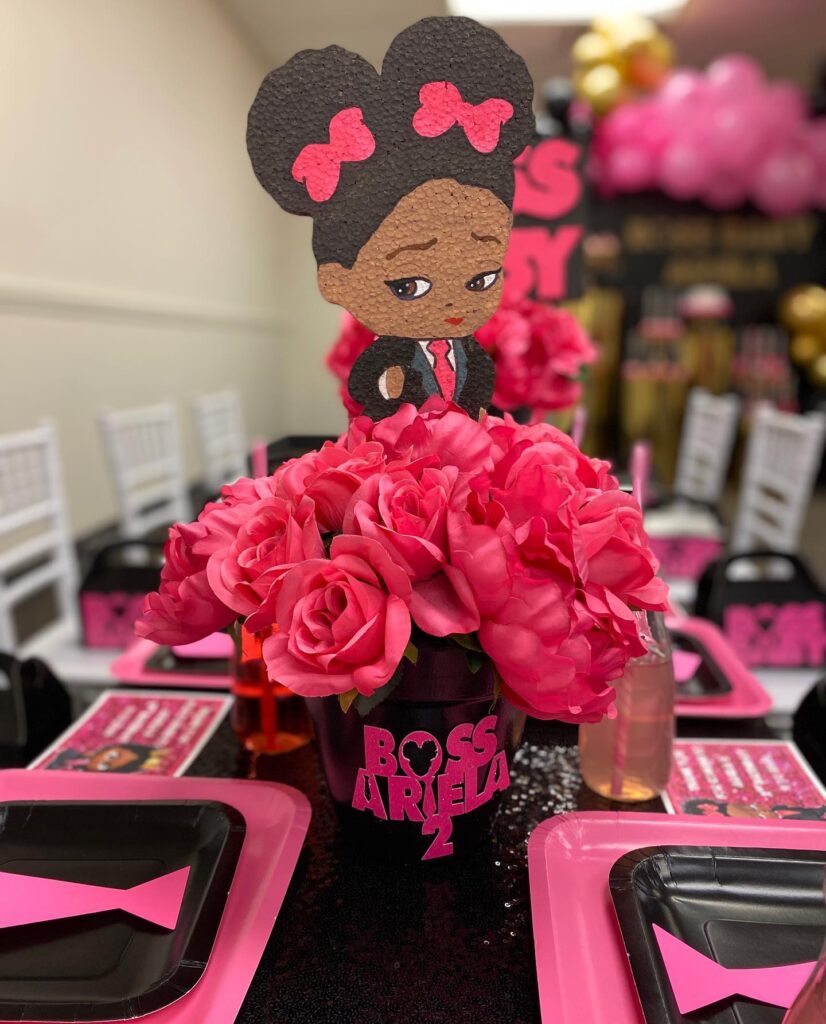 19. Boss Baby Special Gifts
Now, we see a very stylishly designed table. As Boss Baby girl said: "Cookies are for closers."
20. Boss Baby Girl Birthday Cake
The Boss Baby wants to eat cake on her birthday. Who doesn't want to eat a delicious birthday cake with money on it?