Dora birthday party ideas is very colorful. Dora is a very helpful cartoon character. Like her, we want to help you with the birthday party. Let's go to the details!
Most used colors: All the colors of the rainbow!
Most used symbols: Monkey, palm, backpack, sunflower, flower
Who is  Dora?: https://tr.wikipedia.org/wiki/Ka%C5%9Fif_Dora
Here is a nice birthday idea: 20+ Best Lemon Birthday Party Ideas of 2021
1. Forest Consept
Dora birthday party begins! The table is set very neatly at this birthday party.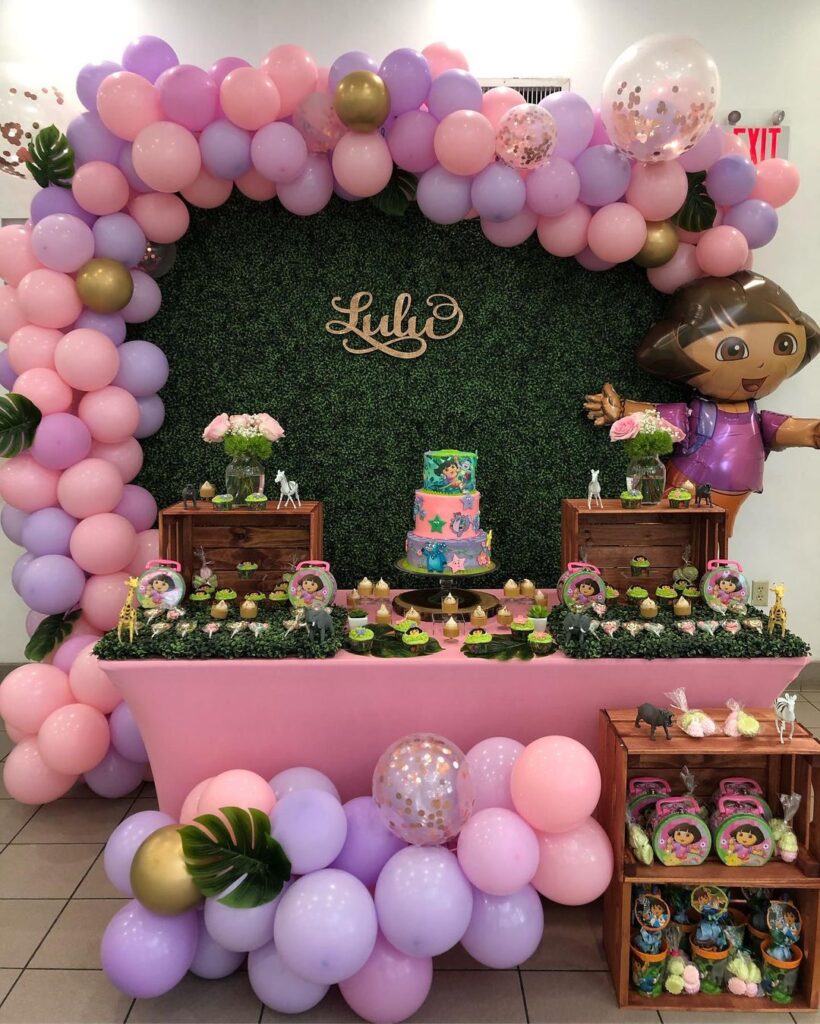 2. Background
At Dora birthday party a tip. The light color tones used on the floor make the space look big.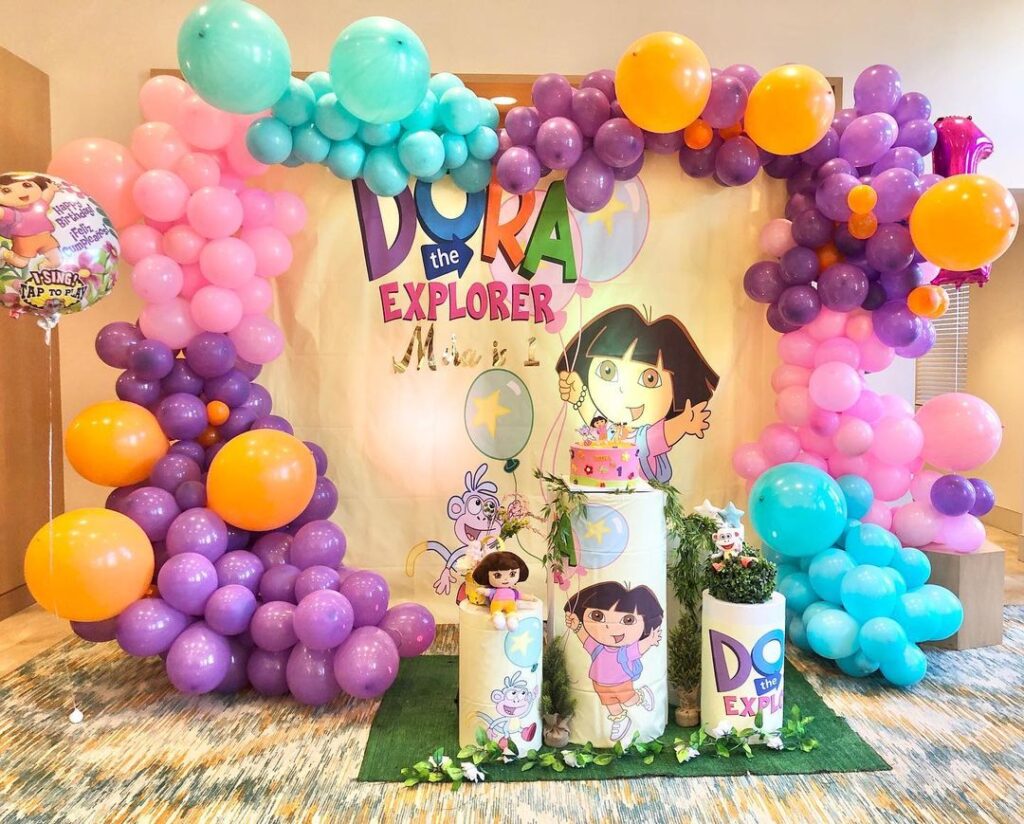 3. Party Lights
At this Dora birthday party, the table is equipped with tulle and LED light. It looks very stylish and eye catching.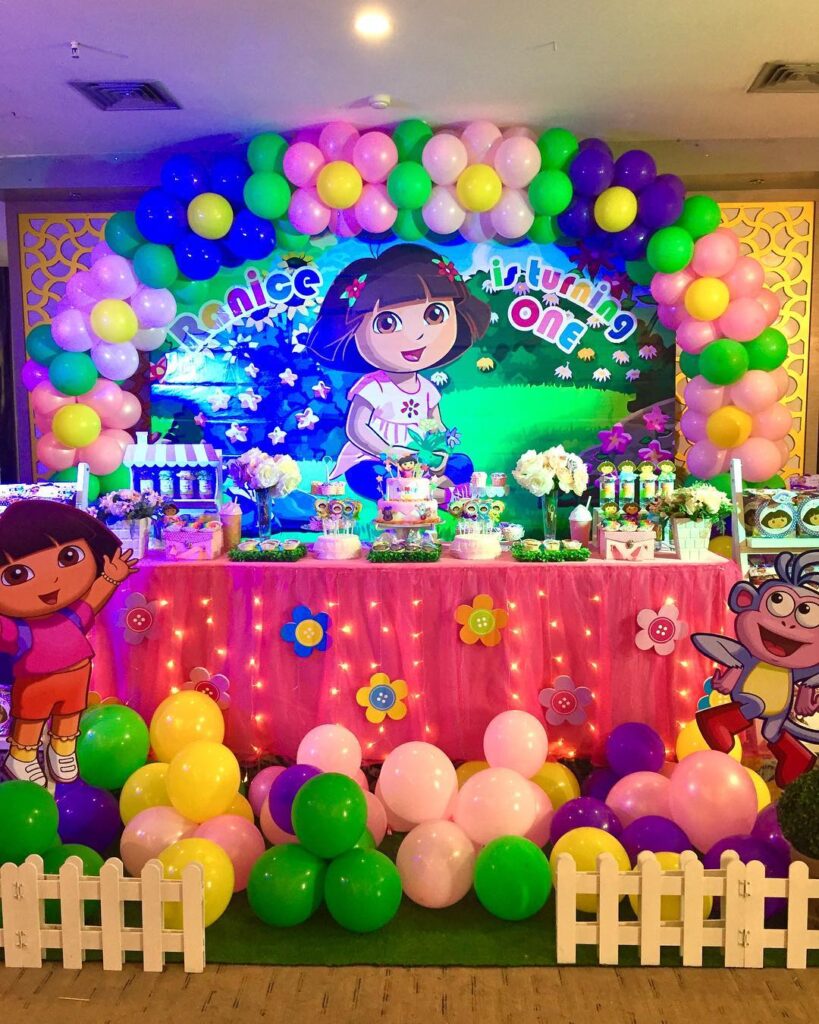 4. Sunflower Arrangements
You can organize a party in the forest with sunflowers and ivy. Fruit boxes created a natural image.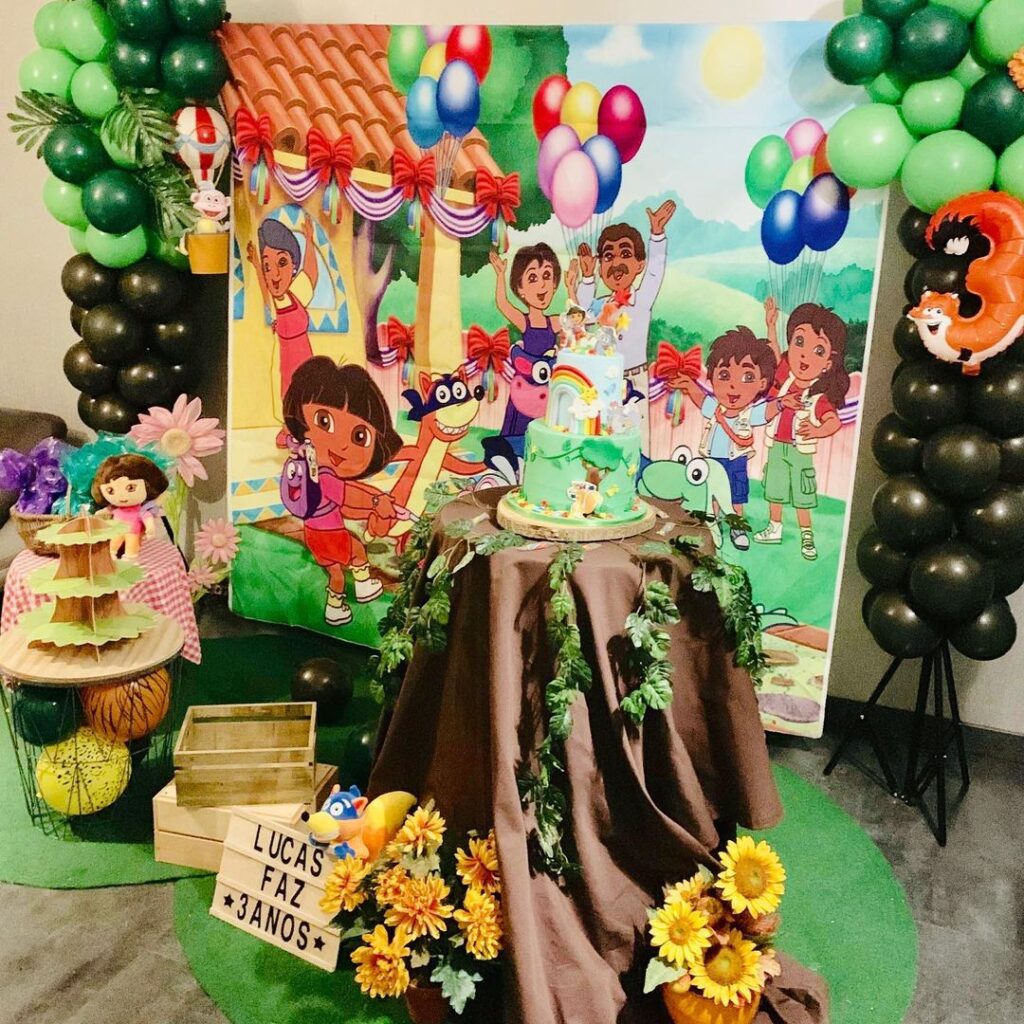 5. Soft Colors
At your Dora birthday party you may want to use soft tones. Light pink and its shades will look very naive.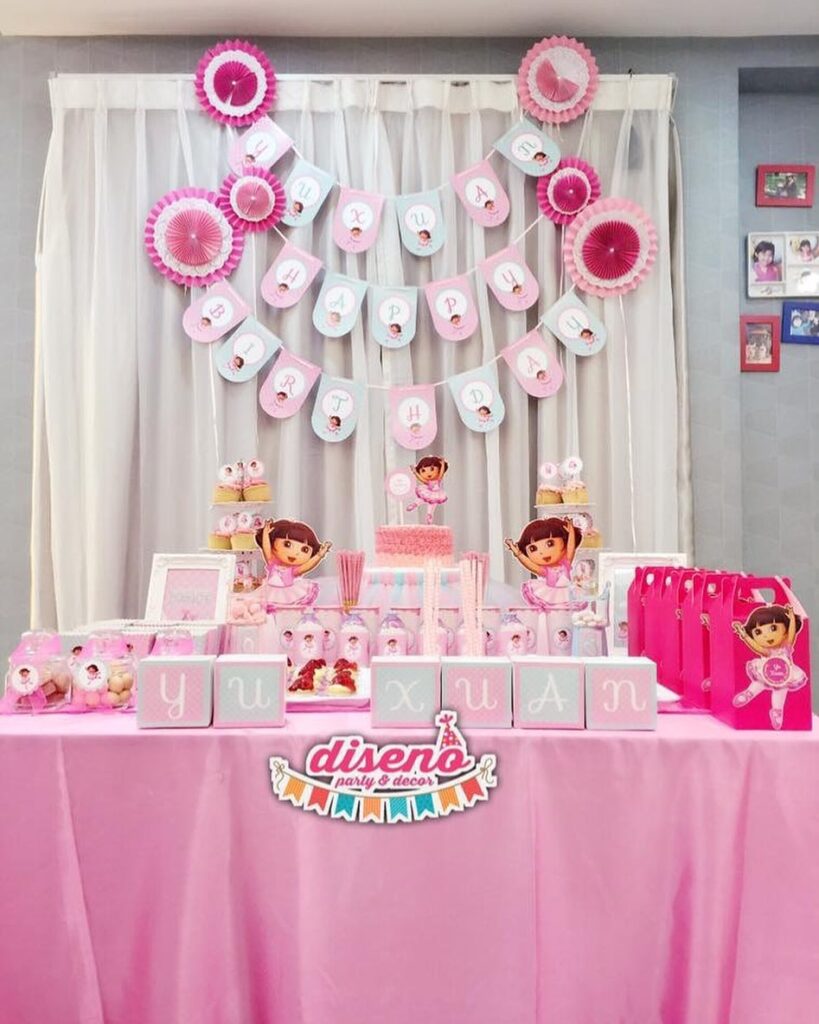 6. Tulle Detail
Dora never goes for a walk in the woods without a backpack. You can also use the backpack figure.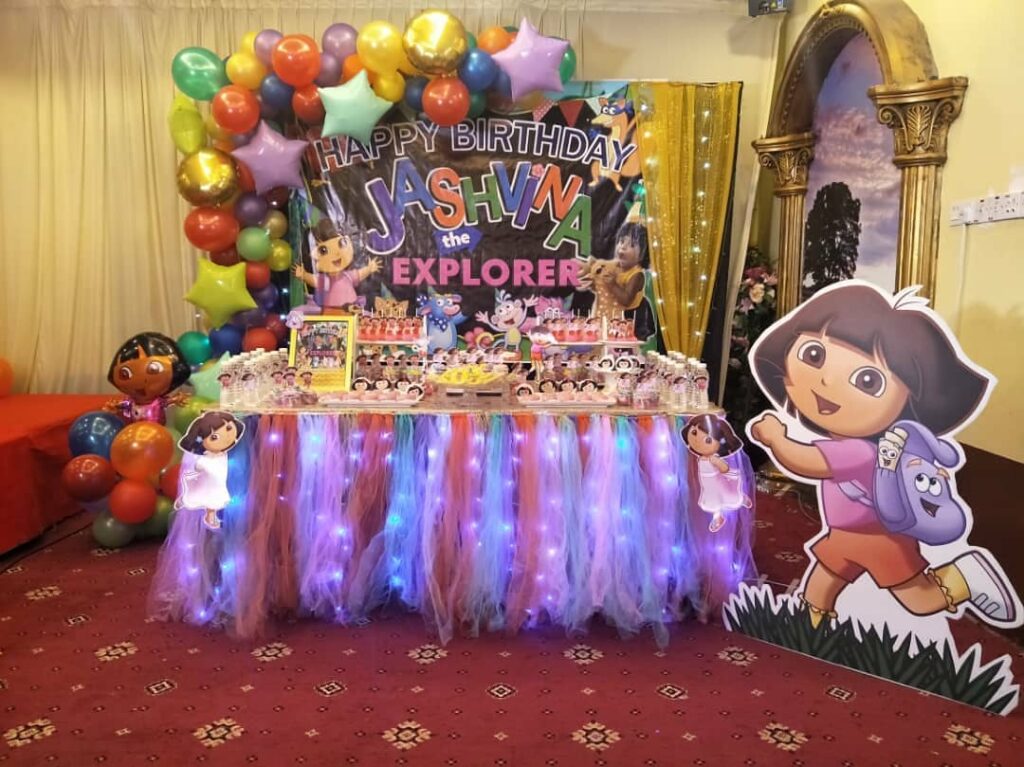 7. Birthday Invitation
In this Dora birthday party, lilac and tones are intense. Nostalgic coffee tables beautified the atmosphere.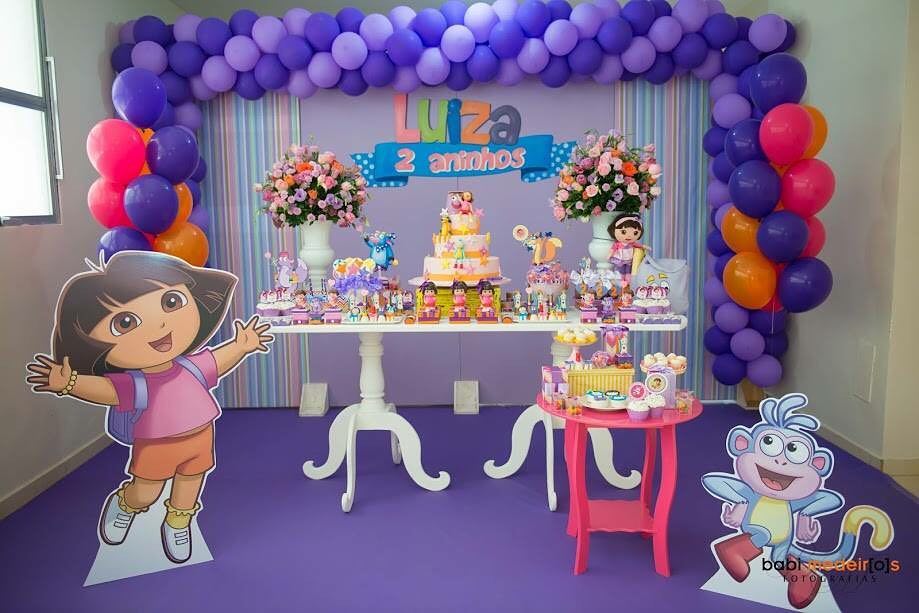 8. Gift Packs
At Dora birthday party, you can prepare small gifts that will make your guests happy. You can also add decorations suitable for the concept in these packs.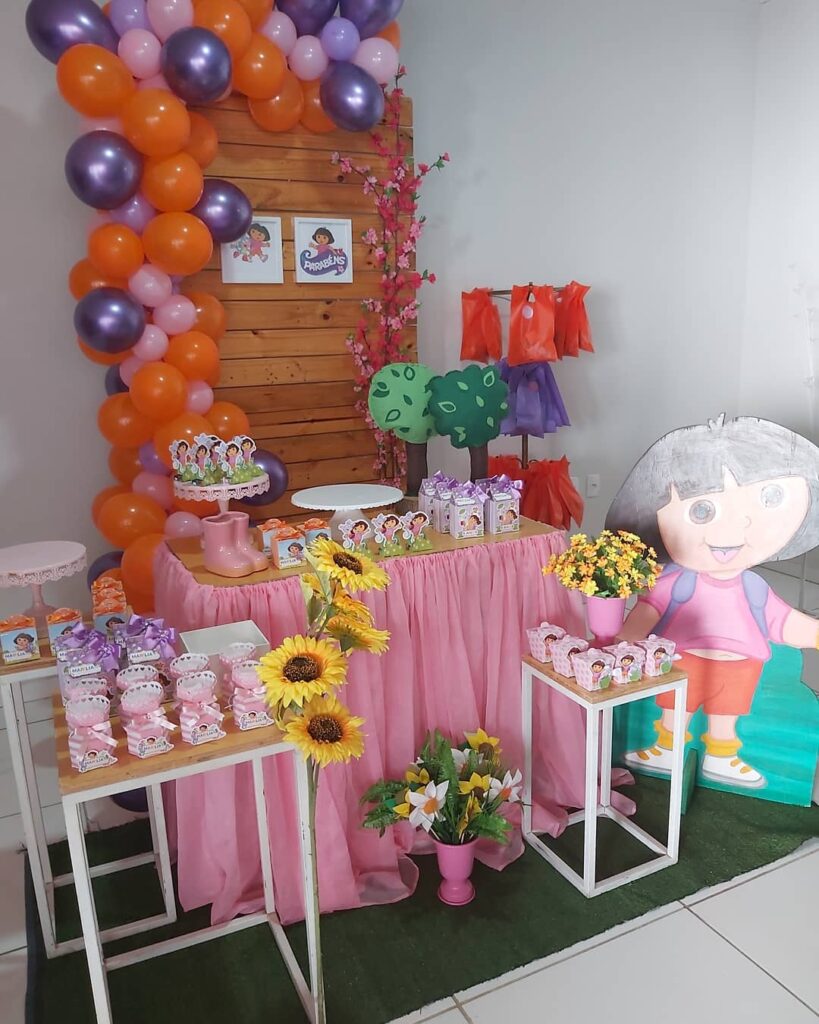 9. Garden Celebration
At Dora birthday party, equip each equipment with colors suitable for the concept. It's a great idea to celebrate Dora birthday party with colorful balloons in the garden.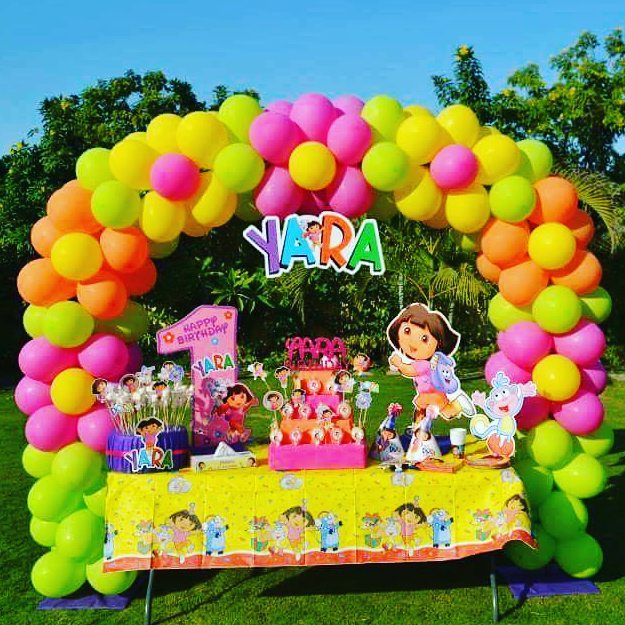 10. Rainbow Consept
Dora birthday party can be very colorful. But using all the colors of the rainbow in the Dora theme is a crazy idea. Fantastic!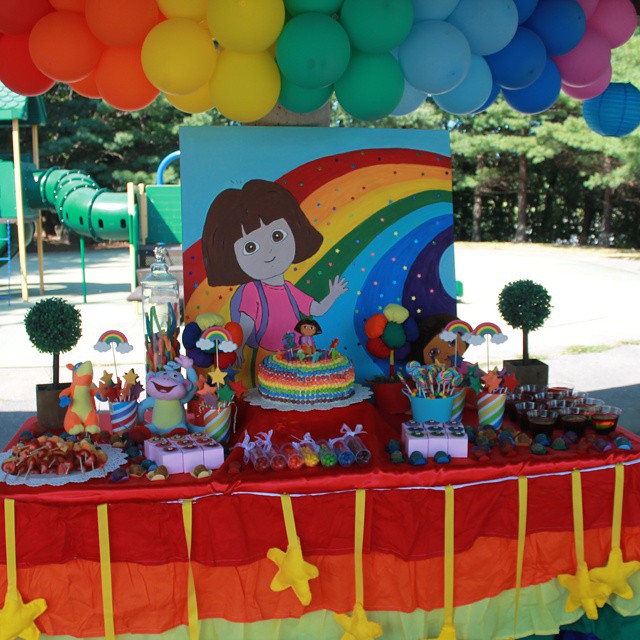 11. Table Setup and Party Snacks
This birthday party table has snacks with Dora stickers. Also the flowers in the vase are very elegant.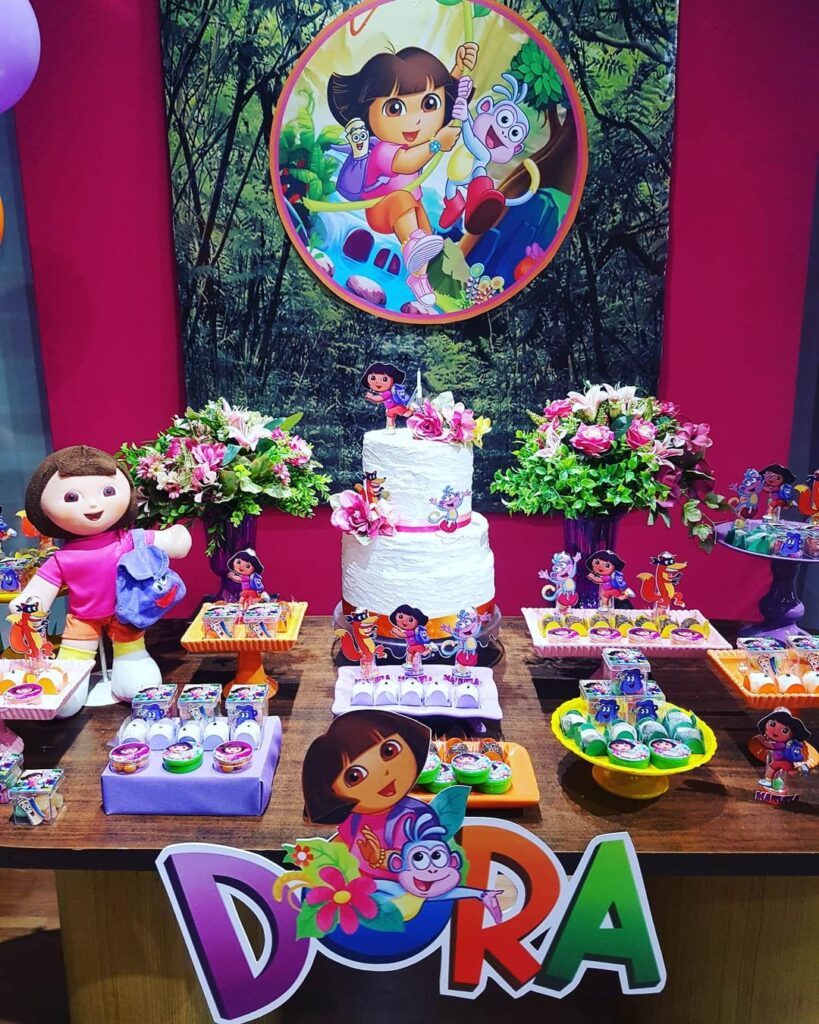 12. Balloons of All Sizes
You can place balloons for Dora birthday party concept for the birthday girl and her friends to spend hours friendly and fun.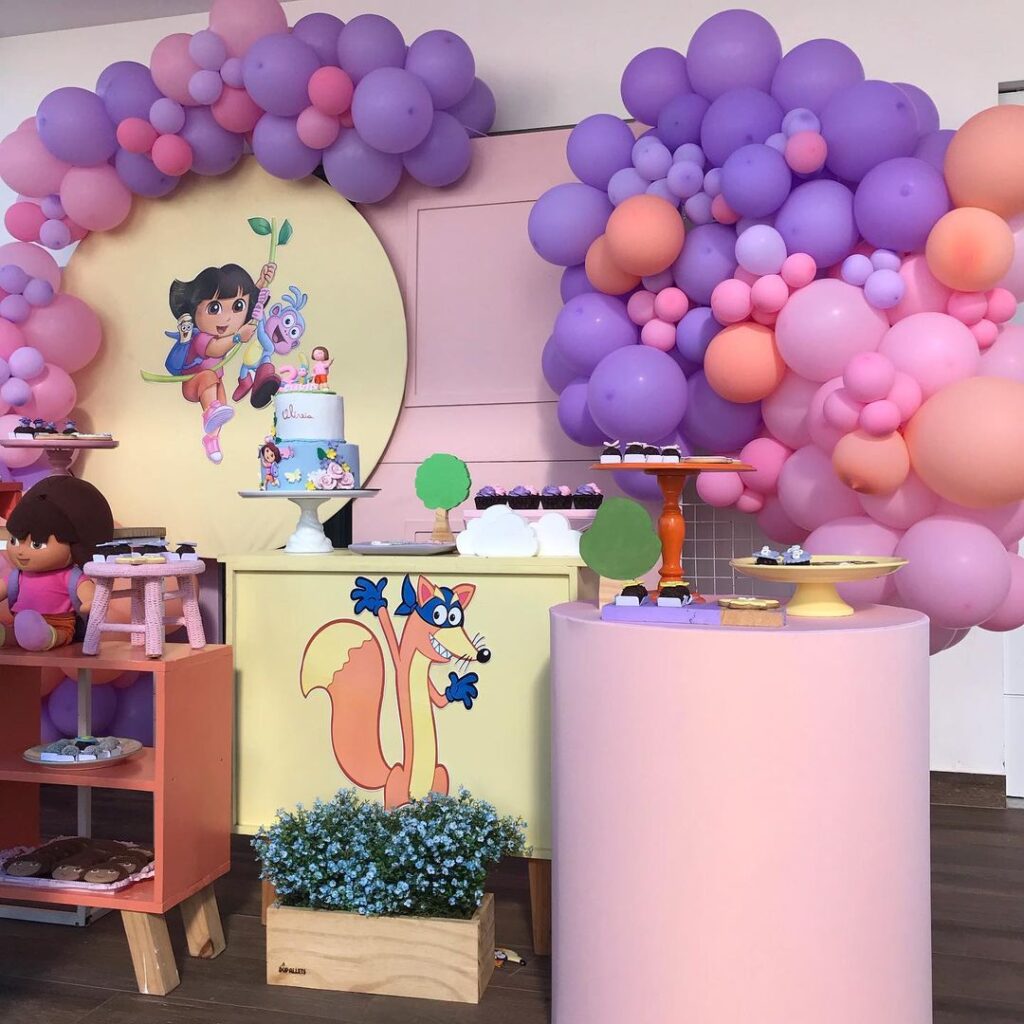 13. Photo Frames
On the Dora birthday party table it would be great to include your baby's photo archieves and memories.
14. Backdrop Banner
You need a backdrop to take a photo. You can use a Dora banner and curtains. Also the birthday girl will feel like a princess on the pink seat.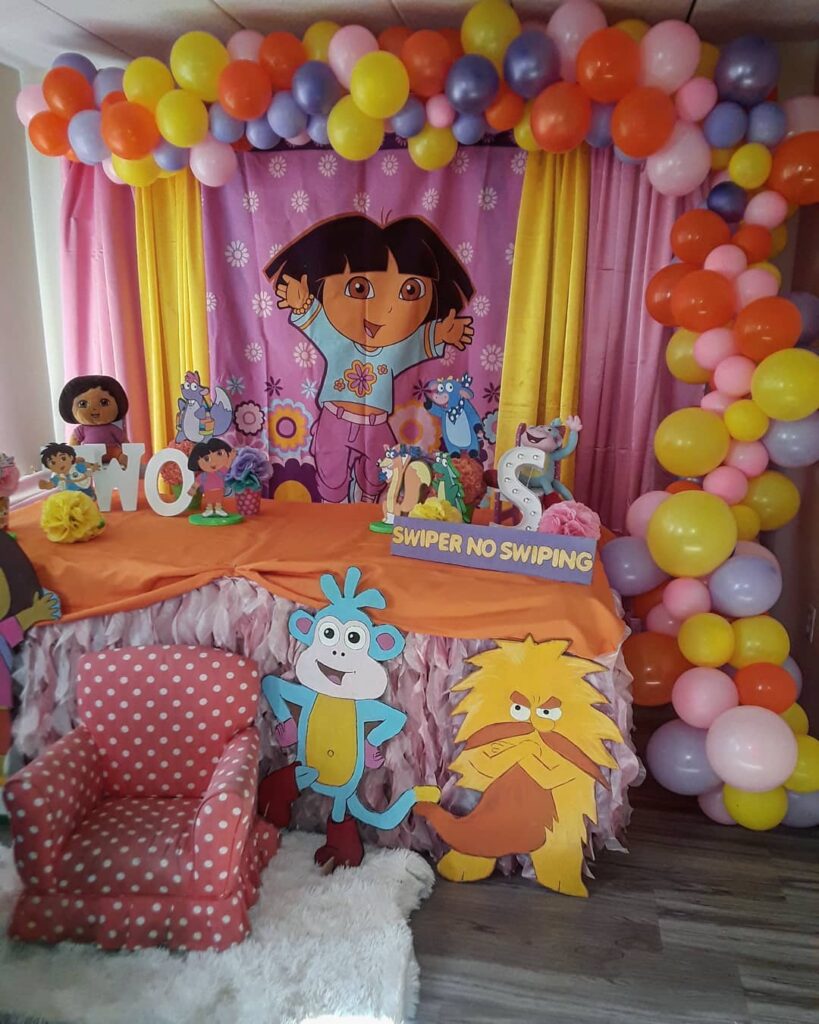 15. Party Equipment
Looking for something simple and on theme? You can use green leaves for background and table decoration.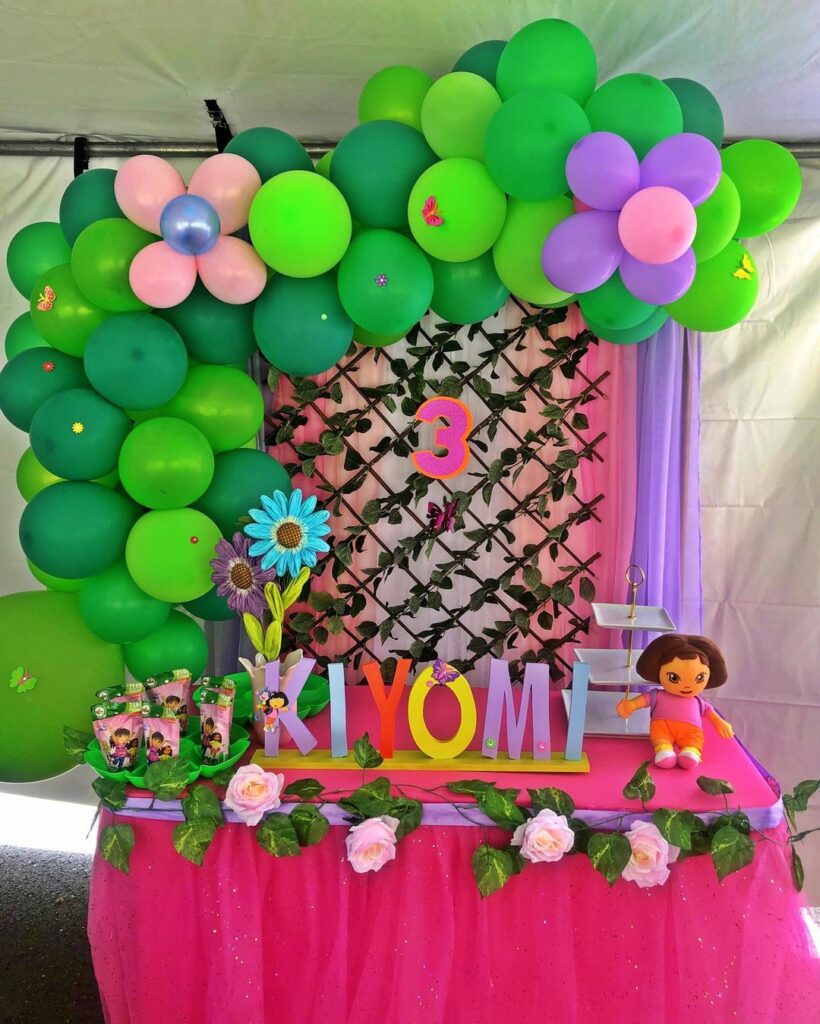 16. 3D Model
Dora also attended the birthday party. Bigger than in the cartoon!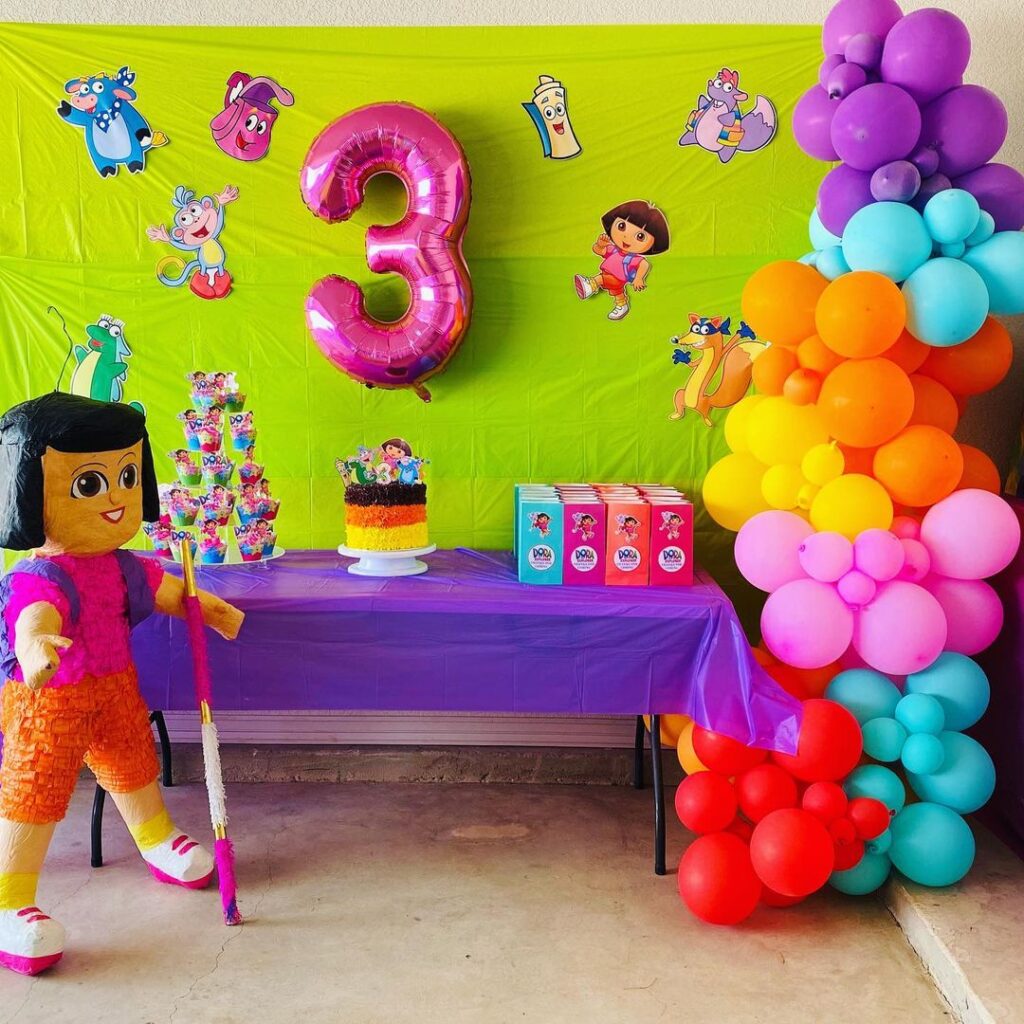 17. Flower Garden Consept
Flowers are everywhere at this party. It looks unusual, we love this idea.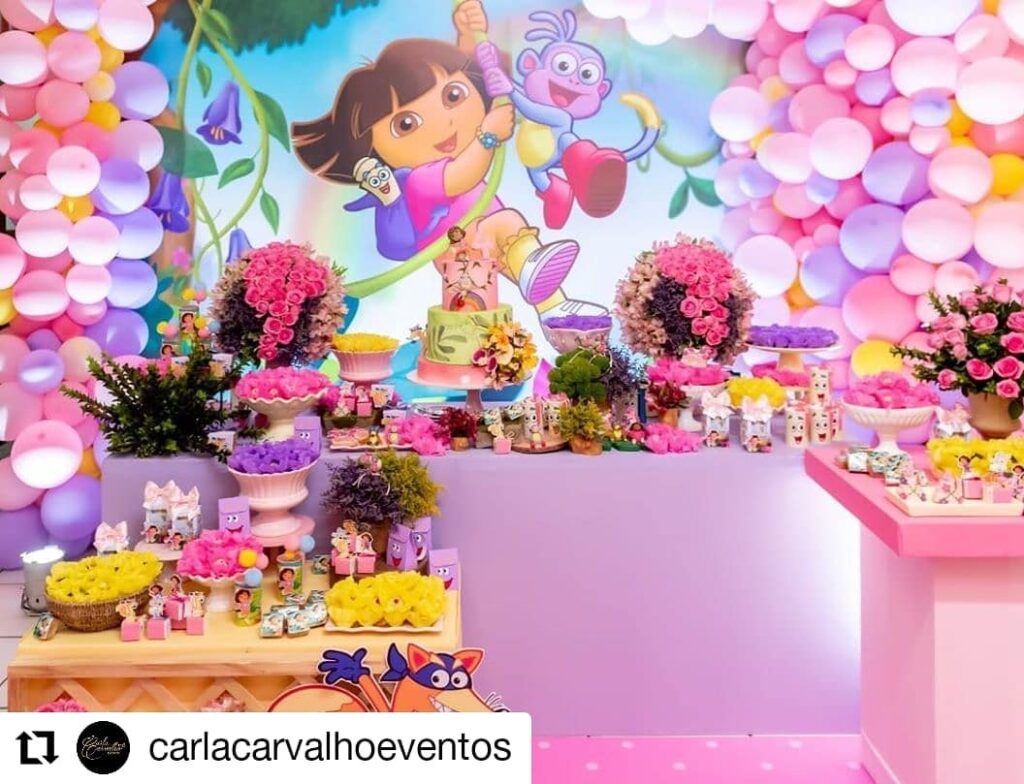 18. Party Stand
By placing Dora figures on or around the party table, you can attract the attention of your children and friends and help provide a fun environment.
19. Palm Figure
Using a huge palm figure on the table and on the floor will create a forest atmosphere.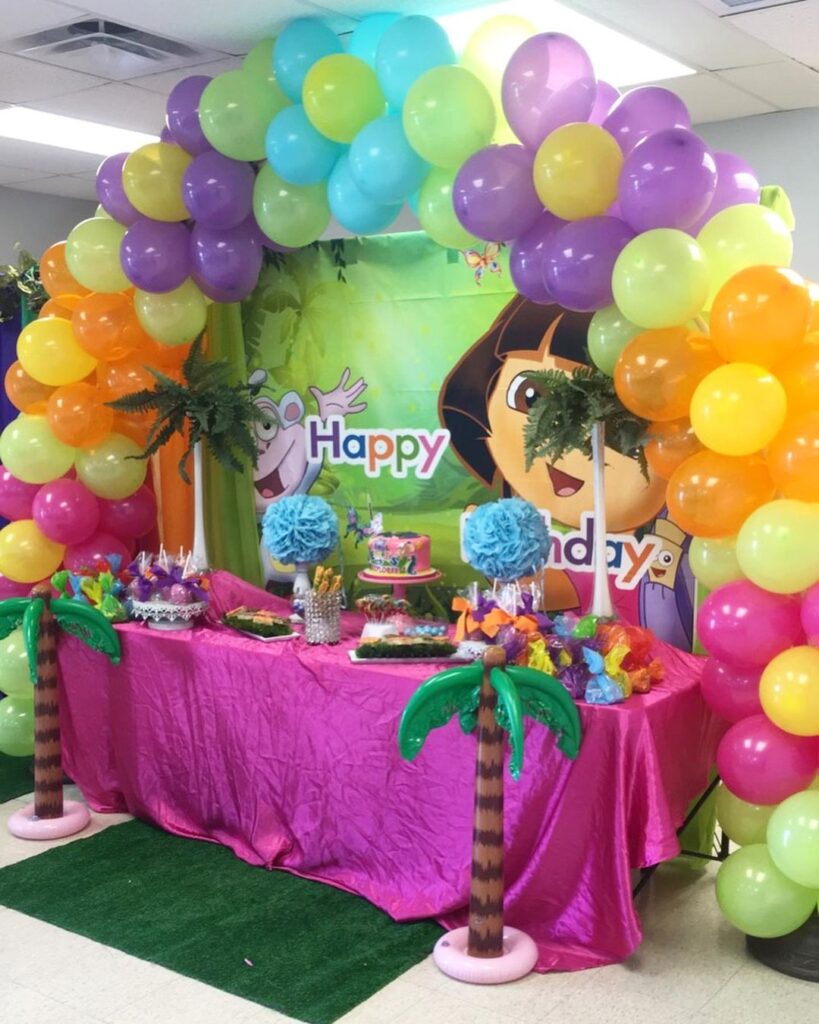 20. 2 Tier Dora Birthday Cake
You can use sugar paste to make a 2 tier Dora birthday cake. It looks very tasty and very sweet.